Rooted in Jesus, gathered into a life-giving community, committed to simplicity of life, we are missioned as Sisters of Notre Dame to bring hope in a diverse society.
Our Charism
The Sisters of Notre Dame share in the special gifts of the Holy Spirit given to St. Julie Billiart for the church and all humankind. We recognize this charism as a deep experience of God's goodness and provident care, leading us to turn to God our good Father and impelling us to proclaim his goodness to others in apostolic service.
Constitutions, Article 2
General Chapter Statement:
As Sisters of Notre Dame
we proclaim God's goodness and provident care,
united in
One heart
One hope
One mission
…committed to global transformation.
International: Our Provinces Around the World
The Sisters of Notre Dame are an international congregation of women religious who serve the Church in eighteen countries on five continents. In addition to ministry in the United States, our U.S. sisters minister in Nicaragua, Papua New Guinea, Rome, Tanzania and Uganda. Read more about our international work at snd1.org.
Local: The California Province
We have ministered in California for over ninety years, bringing hope to the world through catechesis, pastoral ministry, education, health care, social ministries and missionary activity. Enriched by the gift of our spiritual mother, St. Julie Billiart, we continue to proclaim God's goodness to all we serve.
National: The Four United States Provinces
Sisters from our four provinces minister in California, Florida, Indiana, Kentucky, Louisiana, Maryland, Michigan, New York, North Carolina, Ohio, South Carolina and Virginia. Our leadership teams and other administrative staff meet regularly to collaborate and share insights. Members from all four provinces serve on ad hoc committees established by the SND-USA leadership teams to address common goals. Along with Sisters of Notre Dame worldwide, the Sisters of Notre Dame in the U.S. proclaim God's goodness and provident care to all people.
Christ, the King Province in Chardon, Ohio, established in in 1874.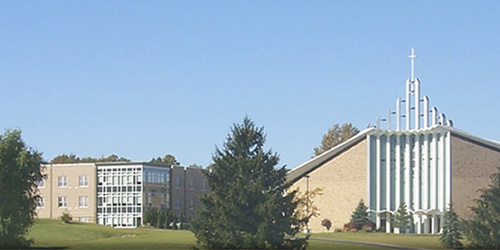 Mary Immaculate Province in Toledo, Ohio, established in 1924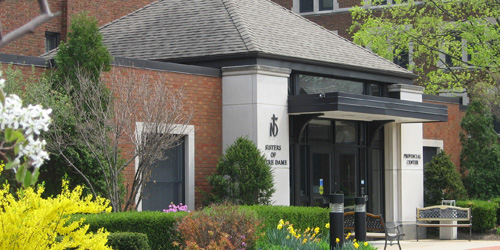 Immaculate Heart of Mary Province in Covington, Kentucky, established in 1924